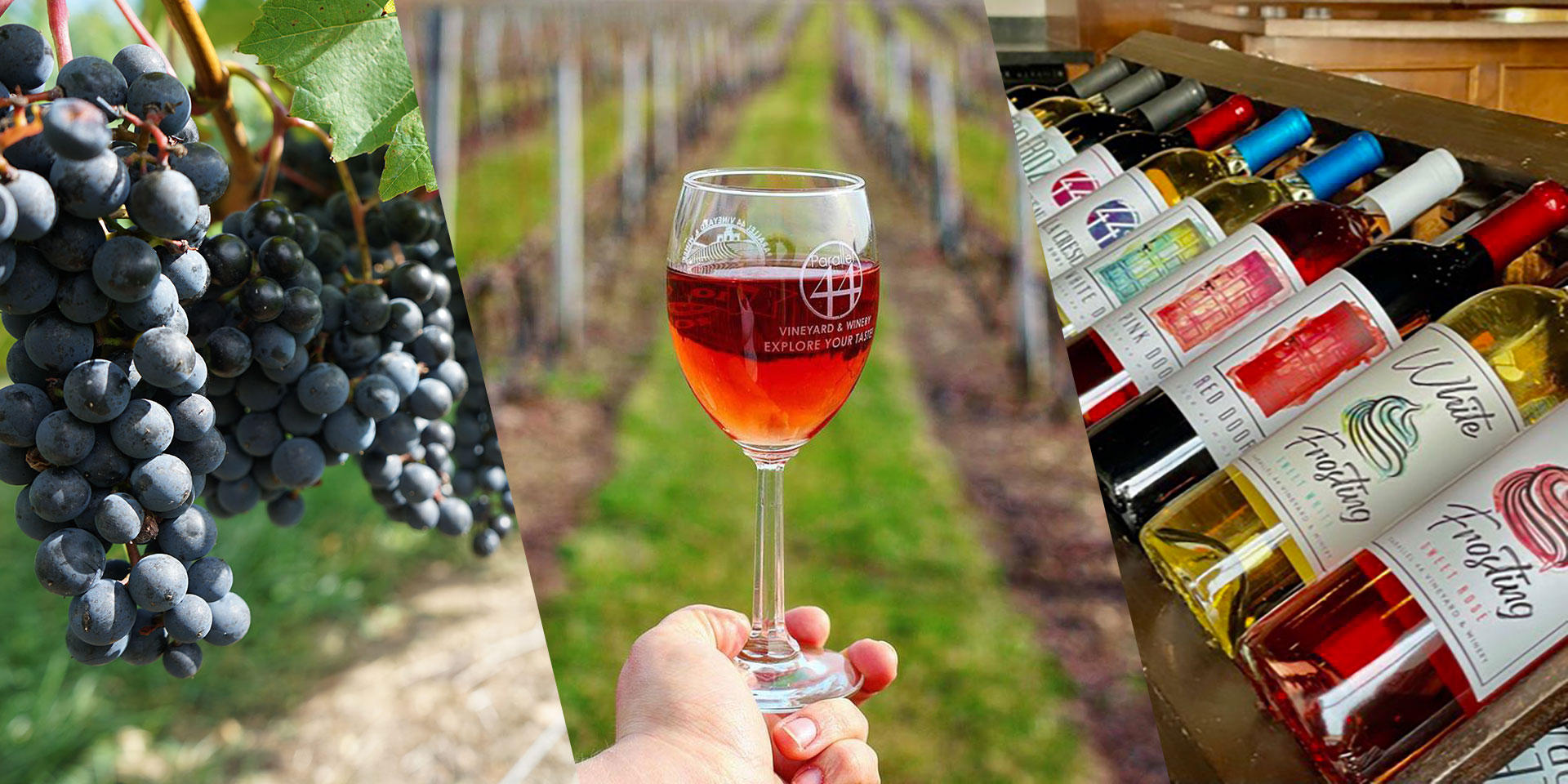 Parallel 44 Wine Pairing Dinner
Join us for an exclusive 6-course wine pairing dinner at DelecTable featuring wines from Wisconsin's own Parallel 44 Vineyard and Winery!
Parallel 44 has curated a special selection of wines just for our guests, many of which are not available outside their winery. Indulge in a gourmet 6-course dinner, each course expertly paired with Parallel 44's award-winning wines. You'll have the opportunity to meet the winemakers for an unforgettable evening of culinary delights and exceptional wines.
Embark on a culinary journey with expertly-paired wines, enjoying lively conversation and laughter with newfound friends. Each course is an artistic creation, beautifully presented and skillfully paired with Parallel 44's award-winning wines. By the end of the evening, guests have a deep appreciation for the winemaker's craft and DelecTable's masterful cuisine. An unforgettable gourmet experience showcasing the best of the region's food and wine.
Don't miss this chance to taste exclusive wines and learn from the experts. And for those who fall in love with a particular wine, you'll have the opportunity to purchase these exclusive wines after the dinner.
Featured Wines:
Red Door – Easy drinking, dry red wine, that is well-balanced and light-bodied, with earthy undertones and flavors of black cherries and a smooth finish.
Fizz 44 – A semi-dry, fizzy, and balanced piquette with its light red fruit flavors and an eco-friendly production that is uniquely Wisconsin.
Frontenac Blanc – A mouth-watering semi-dry white wine with fruity aromatics of starfruit and citrus followed by flavors of pear and finishing with a fresh and juicy acidity.
Petite Pearl Rose – a semi-dry rosé wine with light aromatics, followed by flavors of tart cherry, watermelon, pomegranate, and lime, and a refreshing crisp finish.
Petite Pearl Reserve – Dry red wine that offers notes of fresh plum and blackberry and lingering notes of mocha with a nice round mouth-feel that is well-balanced.
White Frosting – Sweet white with flavors of pineapple, vanilla, and orange blossoms. Ultra aromatic and exploding with flavor.
Wine Pairing Menu
Beef & Beet Tartare
Beet Chips | Quail Yolk | Chive 
2021 Door 44 Red Door, Wisconsin 
Savory Mille Fuille
 Capri Farmed Whipped Goat Cheese | Hazelnut | Wisconsin Rhubarb 
Fizz 44 
Deep Fried Softshell Crab
Fennel | Citrus | Clams | Grenoblaise  
Frontemac Blanc 
 Big Eye Tuna Tataki
Sesame | Strawberry | Chickpea | Mint    
Petite Pearl Rose 
Confit Duck Leg
Foie Gras Mushrooms | French Lentil | Celery Root 
Petite Pearl 
Apricot & Preserved Blood Orange Cheesecake 
Frosting