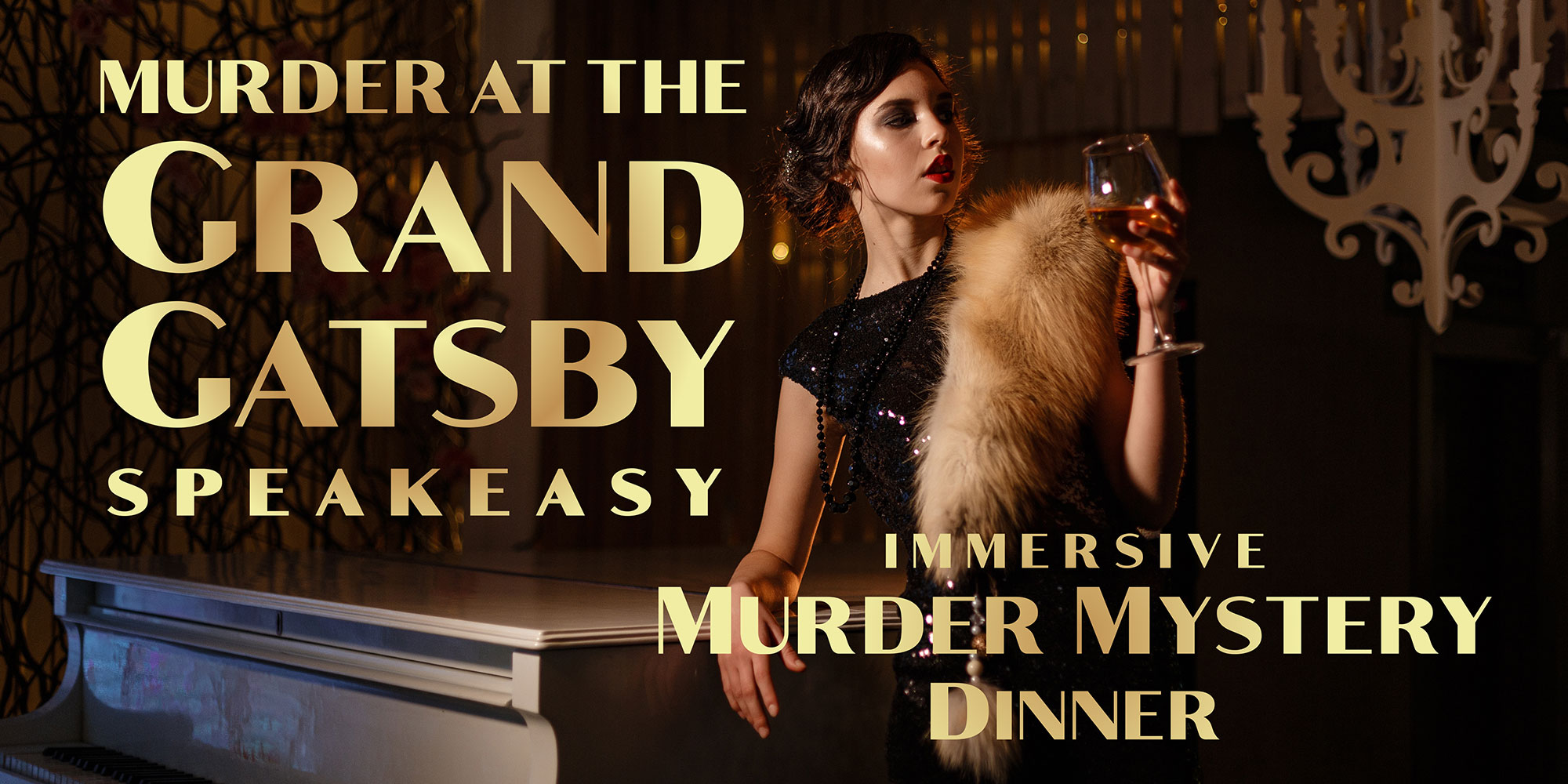 Grand Gatsby Murder Mystery Dinner
It's the height of Prohibition in the 1920s, and there's a mob war brewing between the South Side Gangsters and the Northern Mob Outfit. The two ruthless crime leaders, Hal Sapone and Beanie O'Dannon, have finally reached an agreement on bootlegging practices and have decided to pull together resources to undergo a collaborative effort with criminal endeavors.
The two gangs have set an official date to meet at Hal Sapone's Grand Gatsby Speakeasy to resolve all remaining differences. Will these two underground organizations resolve their disputes, or will there be murder, rekindling the fatal flames between them?
This is where our evening begins.
You have a part to play. Each dinner guest will be a character with a back story, secrets, and motives known only by them (provided in advance). When a murder happens, it's up to you to solve it. Or, you could be the killer and your objective is to get away with murder.
Act 1
We'll start with appetizers and passed hors d'oeuvres while you discover information about the other guests and try to uncover their secrets and motivations. The full bar will be open for drink purchases and there will be special cocktails inspired by the Roaring 20s.
Act 2
Murder. The worst has happened and now it's up to you to discover who the killer is to avoid an all-out gang war in the streets. One guest is the victim and one guest is the killer. There will be some clues, but the information to solve the crime lies with the information held by all the guests. You'll have to use all your sleuthing skills and deduction to ferret out the killer.
Act 3
After gathering information, it's time to make your accusation. Once everyone has made their best guess of the identity of the killer, we'll find out who solved the crime when the real killer is revealed.
With order restored and mob war averted, guests will enjoy a 5-course dinner inspired by early supper clubs.
Guests are strongly encouraged to dress up and act the part of their character throughout the dinner.
There will be prizes for best costume, best acting, and, of course, correctly solving the murder.
Tickets are for admission and participation in the event, appetizers, and dinner. Drinks will be available for purchase from our full bar.
Dinner Menu
HORS D'OEUVRES
Wisconsin Relish Tray
Wisconsin Meat and Cheese Tray
Shrimp Cocktail Classico
Hooks Blue Cheese and Nueske Bacon Wrapped Dates
Bruschetta 
PÂTÉ de CHAMPAGNE
Pork Shoulder | Cornichon | Frisée | Black Truffle | Grill Bread 
ESCARGOT
Celery Root | Golden Beets | Parsley Garlic Bread Crumb 
STEAK
Green Peppercorn au Poivre Sauce | Blue Gem Potato | Butternut Squash | Watermelon Radish 
GUINNESS STOUT CAKE 
Smoked Hay Ice Cream | Valrhona Crème | Fermented Strawberry