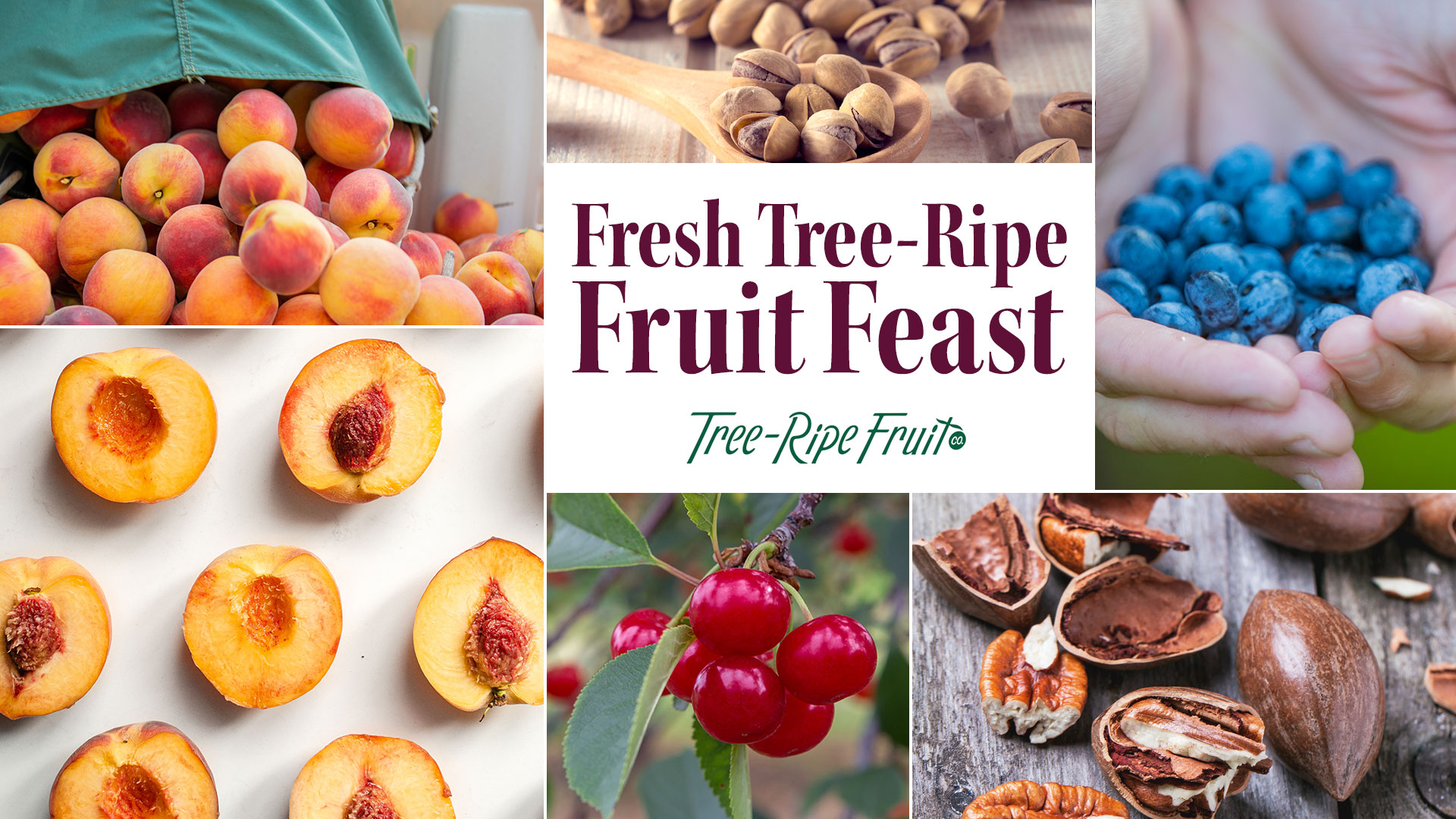 Fresh Tree-Ripe Fruit Feast
Nothing quite compares to the joy of biting into a juicy, ripe piece of fruit. With its sweet and tart flavor that's like a burst of summertime sunshine on your tongue, fresh fruit is one of nature's greatest culinary gifts. The window is short for these summer fruits to be at their peak juiciness, sweetness, and overall flavor.
Tree-Ripe Fruit Co. specializes in fruit that is "tree-ripened" allowing it to stay on the tree longer giving it a richer, sweeter flavor. Most grocery store fruit is picked too early and stored for weeks or even months. Tree-Ripe fruit is picked and delivered directly within days of harvest – you'll taste the difference.
Join Us for An Exhilarating Food Adventure
We're excited! Are you? We're thrilled to announce that DelecTable is partnering with Tree-Ripe Fruit Co. for a Chef's Tasting Experience that's going to be, well, delectable. Imagine a 6-course menu, each dish meticulously crafted and incorporating the freshest, most tantalizing fruits and nuts from across America. Yes, you heard it right – Georgia peaches, Michigan blueberries, Door County cherries, Georgia pecans, and New Mexico pistachios, all on your plate, all in one evening.
Save The Date: July 27th, 2023
Circle your calendars, set your alarms, and clear your evening. On July 27th, 2023, we're bringing you an exclusive dining experience that's just as juicy as the peaches we're serving. This special dinner isn't just about filling your stomach; it's about embarking on a culinary journey that teases your taste buds, delights your senses, and leaves you craving for more.
Georgia & West Virginia Peaches: The Southern Belle of Fruits
Let's start our journey with the Georgia & West Virginia peach. Oh, the peach! An ode to the sweet, juicy delight that has been a staple in the Southern diet for centuries. With each bite, you'll be transported to the warm, sunny orchards of the Peach State. And wait until you taste how our chefs have married the peach's distinct flavor with other ingredients in our special 6-course menu.
Michigan Blueberries: A Burst of Midwestern Goodness
Next stop, Michigan! These little blue gems are packed with flavor and are the quintessence of a Midwestern summer. Our team of chefs has been working tirelessly to create a dish that highlights the tart-sweetness of Michigan blueberries. Each mouthful promises a burst of fresh, fruity goodness that will have you reminiscing about those sunny summer days.
Door County Cherries: Unleashing a Wisconsin Wonder
And then, we arrive in Wisconsin, the land of Door County cherries. These cherries are a delightful paradox of tart and sweet, and they're going to add a unique touch to our culinary masterpiece. Our chefs have been experimenting with their distinctive flavor to create a dish that is as surprising as it is satisfying.
Georgia Pecans and New Mexico Pistachios: A Nutty Finale
Finally, we round off our gastronomic journey with Georgia pecans and New Mexico pistachios. These nuts, known for their rich, buttery flavor and delightful crunch, will feature in our dessert course. Our team of chefs is crafting a sweet finale that's bound to leave a lasting impression.
Experience the Best of America's Fruitscape
Are you ready for a culinary adventure? Are you ready to experience the taste of America's fruitscape? Then come join us for this exclusive event. Our Chef's Tasting Experience is a chance to savor the flavors of the country, all from the comfort of your dining chair.
So, what are you waiting for? Reserve your spot, get ready for a food journey like no other, and stay tuned for more details about this exciting event. We can't wait to serve you the best of America's fruitscape!
Tasting Menu
Tree-Ripe Blackberries & Valhalla Hills Beet 
Cylindrica Beet | Blackberries | vomFASS Maletti Balsalmico | Hooks Blue 
Foie Gras & Tree-Ripe Pecan
Brioche | White Chocolate | Cherry Coulis | Red Dragon Napa 
2019 Scout's Honor Napa Valley Red Wine, California 
Brulé Tree-Ripe Peach
Capri Farm Whipped Chevre | Valhalla Hills Sorrel & Snap Peas  | vomFASS Honey Balsam 
Pecan Glazed Mt. Lassen Trout
Calima Pole Beans | Brown Butter | Sunchoke 
2021 Picollo Ernesto Gavi, Italy 
Tree-Ripe Pistachio Encrusted Rack of Lamb
Brassica |  Michigan Blueberry Lamb Jus | vomFASS Forest Raspberry Balsamic 
2016 Martinez Alesanco Rioja Reserva, Spain 
Tree-Ripe Peaches & Blueberries Galette
LN2 Smoked Hay Ice Cream | Brandy Peach Butter & Georgia Pecans
Apricot Mule