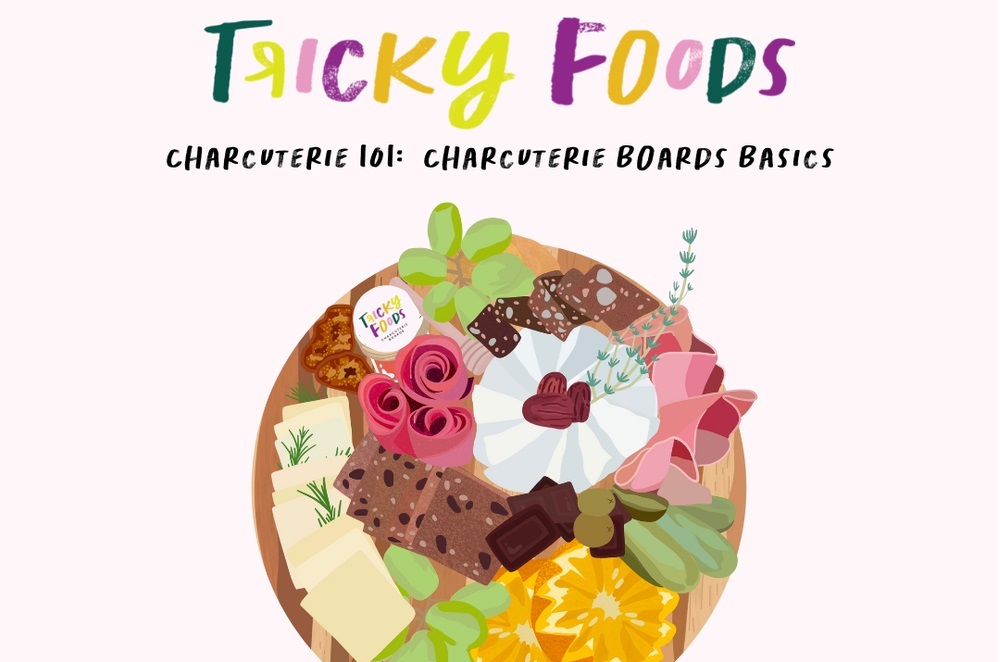 Charcuterie 101
Charcuterie 101 is the perfect place to start! We will cover the basics of creating a charcuterie and cheese board for any season. This includes understanding key design rules, the color wheel, and color balance. No experience is necessary!
Tricky Foods is partnering with DelecTable to bring you a live charcuterie class, hosted by Therese, owner of Tricky Foods. Join us on how to create the perfectly eye-pleasing, mouth-drooling, charcuterie board! After this 1.5-hour-long class, you'll be able to wow your guests with your newfound talent for creating salami roses, orange flowers, and a visually (and tasty) balanced snack tray. Each ticket will come with a vomFASS oil, vinegar, and liqueur tasting as part of the class, plus your very own Aceto Balsamico Maletti to take home!
This evening will not just be about crafting charcuterie, but also about having fun! So bring your gals, your pals, your loves, your kids, or simply bring yourself … you won't want to miss this fun event!
Ticket options:
1) Class + Ingredients: This includes all of the ingredients to make and take home a 10-in charcuterie board for 2, a charcuterie checklist, and a Tips n' Tricks guide. Your ingredients will be brought directly to class from us! Class-Exclusive: each participant will take part in a vomFASS oil, vinegar, and liqueur tasting as part of the class, plus your very own Aceto Balsamico Maletti to take home! $95
2) Class only: allows entry to sit in on a class with a friend to either watch and learn or build a board together. This includes a vomFASS oil, vinegar, and liqueur tasting. Class-Exclusive: each participant will take part in a vomFASS oil, vinegar, and liqueur tasting as part of the class, plus your very own Aceto Balsamico Maletti to take home! $35